Why Choose Biomass briquetting plant?
Because of the fast increase of energy demand and skyrocketing price of traditional fuel like coal and natural gas, more and more people tend to be concerned about solid biomass fuel production. Solid biomass fuel is a kind of renewable, clean and environmental friendly energy source for many countries, especially agricultural countries.
Biomass briquetting plant utilizes forestry and agricultural residues as biomass raw materials to produce biomass briquettes, biomass pellets or charcoal briquettes with different diameters.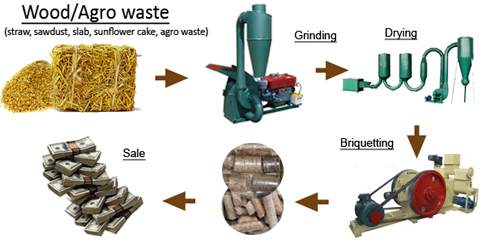 biomass briquette plant(samll type)
For different raw materials, the briquetting plant processes are different. We will design the complete briquetting line according to your actual requirements and configure necessary equipments. Below is a detailed
biomass briquetting plant flowchart
.

Materials to Biomass Briquettes

Biomass raw materials: wood, branches, rice husk, bamboo shavings, wood shavings, peanut shell, sunflower husk, sugar residue, lees, bagasse, coconut shell, coffee grounds, corrugated carton, straw, sawdust, cotton stalk, tobacco waste, mustard stalk, jute waste, bamboo dust, tea waste, wheat stalk, palm fruit shell, soybean bran, rice husk, and other forestry or agricultural wastes.

Final Biomass Briquettes

Equipments for Biomass Briquetting Plant
Grinding/Crushing Machine
Drum Chipper
Hammer Mill
Grinding Machine
Specifications:
Type: GC-BX315
Power: 45 kw +7.4kw(Belt conveyor)
Capacity: 3000-6000 kg/Hr
The chipper has two knives.

Max diameter of fed wood logs is 200mm

. Length of

finished product is 10-15mm

. Discharge belt conveyor is also the feeder for hammer mill. There is magnet device to separate potential metal material.
Specifications:
Type: 420B-7.5
Power:7.5KW(electric motor)
Capacity:300-600kg/h
It's used for cutting large pieces of material around

30mm into smaller pieces of 2-5mm

, making the material suitable for briquetting or pelletizing .
Specifications:
Type: GC-FSC2000
Power: 90kw +15kw
Capacity:2000-2500 kg/h
The hammer mill is for grinding the wood chips be powder of

3-5mm

, which is right size for briquetting or pelletizing. It's suitable for raw material with diameter not more than 50mm and 10%-25% moisture content.
Drying Machine
Specifications:
Type: GC-MXФ2.0×12
Processing ability: 2 ton/h
Remove water ability:2.3ton/h
Power:129.7kw
Moisture requirement: 50%-15%
Operator: 3 persons/ shift
Floor space:120 square meters
Description
: It is a process of getting powdery and granular dry products through evaporating water from the wet biomass materials when transporting and scattering the high speed hot air flow. Making the materials suitable for briquetting or granulating.
Briquette Presses
Usually the briquette press shall be chosen depending on your raw material and the final products you need (whether charcoal briquettes, wood briquettes, or pellets, etc.).
If you need to produce large diameter briquettes or small diameter pellets for industrial burning or for sale, you can choose mechanical stamping briquette press.
If you want to produce charcoal briquettes or hollow biomass briquettes for burning or for sale, you need screw briquette machine. What you shall notice is that, if you want to make charcoal briquettes, your briquetting plant shall be installed with charring equipment (carbonization furnace). See specific information of charcoal briquetting plant.
3T/H 3TCharcoal Briquette Plant Layout(large type)
Customize your own biomass briquette plant now!
If your material is coal, charcoal powder, want to make different shapes of coal/charcoal ball, you can go our
coal briquette plant.