Aairflow drying machine is mainly used in biomass briquette plant. GEMCO has 3 types of airflow dryers suitable for different raw materials with different moisture conditions.

This new type highly efficient and energy saving airflow dryer adopts multiple sets of pulse connection, which can dry sawdust, rice husk, peanut shell and stalk in one time. It adopts self-supply combustible gas as heat source; the drying adopts draught fan negative pressure suction to suck the raw material into coiled pipe, let the high temperature air and material mix fully, and takes away moisture inside material, so as to achieve the aim of drying.
GC-DL Series Drying Machine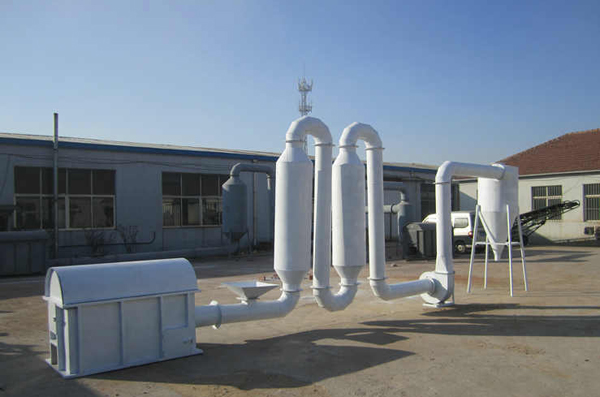 Model
GC-DL-4
GC- DL -7.5
GC-QL-11
GC-QL-15
Capacity(Kg/hour)
200-250KG
400-500KG
500-700KG
800-1000KG
Size of Input Material
(Diameter)
< 3mm & < 5mm
< 3mm & < 5mm
< 3mm & < 5mm
< 3mm & < 5mm
Temperature of Hot Air
150°C~220°C
185°C~220°C
150°C~220°C
150°C~220°C
Consumption of Wood Waste
50-65 kg/h
60-75kg/h
65-90kg/h
100-120kg/h
Power
(Centrifugal Fan)
4kw
7.5kw
11kw
15kw
Net/Gross Weight
1760kg
2100kg
2400kg
2600kg
Dimension(m)
9×2×3.3m
13×2×3.3m
16×2×3.3m
17×2×3.3m
Structure:
it is mainly composed by heat source, draught fan, coiled pipe and shedder.
Air dryer features:
The airflow dryer utilizes heat flow jetting and self-priming device to automatically suck the raw material;
The flow rate of hot air is fast, so that the air and material can fully mixed together, which realizes good drying effect;
If your raw material moisture content is 25%, this airflow dryer can dry it to briquetting required moisture content 10%.
This dryer not only decreases labor intensity, but also decreases drying cost.
It adopts thermal drying system with low power, low energy consumption and fast drying. The drying yield is determined by raw material moisture content.
GC-DH Series Drying System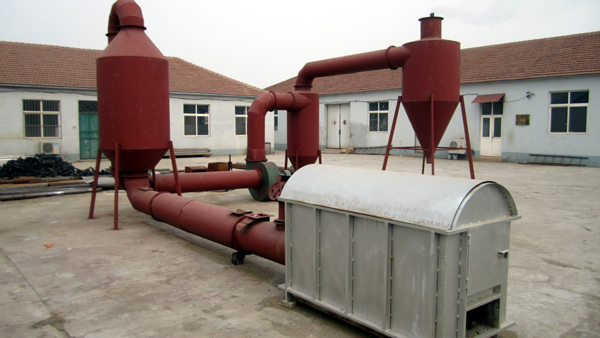 | Model | GC-DH-5.5 | GC- DH -7.5 | GC-DH-11 | GC-DH-15 | GC-DH-18.5 |
| --- | --- | --- | --- | --- | --- |
| Drying rate(kg/h) | 250-350 | 300-400 | 600-800 | 800-1000 | 1000-1200 |
| Active Power(kw) | 5.5 | 7.5 | 11 | 15 | 18.5 |
| Feeding power(kw) | 0.75 | 0.75 | 0.75 | 0.75 | 0.75 |
| Weight(kg) | 2200 | 2500 | 3000 | 3500 | 4000 |
| Pipe minimum diameter(mm) | 260 | 300 | 350 | 400 | 450 |
| Water content | 30%-40% | 30%-40% | 30%-40% | 30%-40% | 30%-40% |
GC-DR Saw Dust Dryer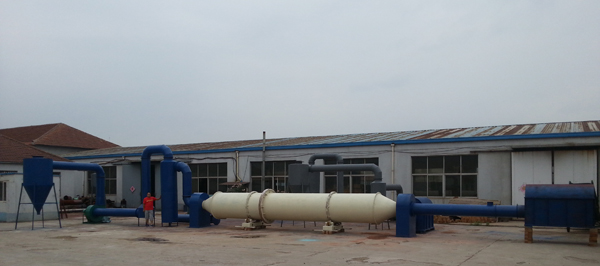 This type of dryer is mainly used to dry wood sawdust.
Working principle
:
The three layer rotary dryer developed by GEMCO is heated by a furnace, and the high temperature heat enters the rotary cylinder and pipe directly. On the connection of rotary cylinder and the furnace, there equipped a feeding hopper to receive the raw materials waiting for drying. The wind power from the fan sucks the raw material and heat into the rotary cylinder, and the rotary screw pieces keep rotate and turn over, force the raw material to discharge moisture under great heat. The already dried raw material will be absorbed into the pipe to be exported; while those haven't been dried will stay in the rotary cylinder and continue to be dried.
The three layer design prolongs the effective drying area without enlarging its size and length, which can efficiently enhance the drying output. Also, because of the layers of heat dissipation, it decreases heat loss and makes the dryer energy-saving. The dried material is conveyed by the draft fan through three-layer cylinder and air pipe into the separator tank and falls down, while the vapor will be expelled through the flue.
This kind of dryer can realize balanced drying with short time, high efficiency and low energy-consumption.
| Model | GC-DR-1000 | GC-DR-1100 | GC-DR-1200 |
| --- | --- | --- | --- |
| Application Initial Moisture | 40-50% | 40-50% | 40-50% |
| Final Drying Moisture | 8-14% | 8-14% | 8-14% |
| Drying Capacity | 600-800Kg/H | 1000-1200Kg/H | 1200-1500Kg/H |
| Fan Power | 11KW | 15KW | 18.5KW |
| Drum Power | 1.5KW | 2.2KW | 3KW |
| Drum size | 1.0*6m | 1.1*8m | 1.2*10m |
| Drying Pipe Diamet | 350mm | 400mm | 450mm |
| cyclone Diamet | 1000mm | 1100mm | 1200mm |
| Drying Pipe Max Height | 3.5 Meters | 4.5 Meters | 4.5 Meters |
| Direct Hot Wind Stove Size | 2200*1100*1300mm | 2200*1100*1300mm | 2200*1300*1400mm |
| Fuel (firewood) Consumption | 110-150kg | 130-160kg | 180-220kg |
| Machine Weight | 4200kg | 4800kg | 6000kg |
| Power Supply | 3 Phase 380V50Hz | 3 Phase 380V50Hz | 3 Phase 380V50Hz |