10Ton/H Coal Briquette Line Technology and Equipments
Coal briquette line also called
coal briquetting plant
is used to make pillow, oval or egg shape briquettes from coal powder or coal dust. For processing these kinds of raw materials, a single coal briquette machine is not enough. There is some other equipment necessary in the coal briquette line.
Here is a sample coal briquette line of 10ton/h capacity.
1.Composition:
Composite crusher, adhesive mixing tank, edge runner mill, screw feeder, coal briquette machine, mesh belt dryer, draught fan and matched belt conveyor.
2.Requirements:
Customer offers the workshop size, including width, length and height. Also, industrial electricity is a must.
3.Technical specs:
| No. | Item | Model | Power |
| --- | --- | --- | --- |
| 1 | Composite crusher | ZZLP650 | 22kw |
| 2 | Adhesive mixing tank | | |
| 3 | Edge runner mill | S114 | 15kw |
| 4 | Screw feeder | ZZG650/ ZZG800 | 7.5/11kw |
| 5 | Coal briquette machine | GCXM-10 | 18.5-30kw |
| 6 | Mesh belt dryer | 5 layers | 20.5-50kw |
| 7 | Belt conveyor | | |
| 8 | Draught fan | | |
Details of the coal briquette line components
1.
Composite crusher:
it can crush the large pieces of coal (>5mm) into smaller particles to meet briquetting requirements. No matter the raw material coal is wet or dry, this composite crusher can process.
2.
Adhesive mixing tank:
it is used to mix the powdery adhesive. After mixing, the adhesive can be controlled by quantitative container to add into the coal material in proportion. The mixing time is 5-10mins.
3.
Edge runner mill (wheel charcoal powder mixer):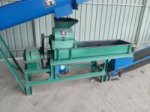 it is used to grind the coal particles into powder and at the same time mix the coal with binder (adhesive) evenly. Inside the mixing tank, there equipped 2 runner wheels weighing 1500kg. These 2 runner wheels rotate with the inside & outside scrapers, so that mixed material can be stirred and grinded continuously, and can reach ideal mixing result. Depending on the specific gravity of different raw materials, every time 0.4m
3
material is fed into, and mixing time is 2-4mins. To save equipment investment and make it easy to feed the raw material, this edge runner mill can be installed below ground, the raw material and adhesive can be fed by carts.
4.
Screw feeder and belt conveyor
: it is used to feed the mixed coal powder into coal briquette machine. Before feeding into the briquette machine, coal powder can also be stored in a storage tank first and then conveyed by belt conveyor.
5.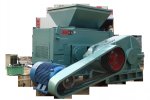 Coal briquette machine
: for this capacity of 10ton/h coal briquette production, we suggest GCXM-10 coal briquette machine. This machine is a mechanical and hydraulic briquette machine. The briquette machine is equipped with a linear sieve, so that the finished briquettes and unformed coal fines are separated: the finished coal briquettes are directly conveyed into the mesh belt dryer, while unformed fines will be collect for reproduction.
6.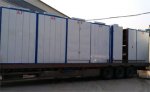 Mesh belt dryer and draught fan
: the draught fan produces got air, and hot air is blown into the bottom of mesh belt dryer from both sides. The heat will circulate from bottom to top, so that the coal briquettes can fully absorb heat and reach ideal drying effect. The moisture discharged by coal briquettes will be expelled from the upper milled exhaust vent. In order to balance the heat supplied to every drying tank, there are hot air adjusting frame in the air inlet of every tank. After drying, coal briquettes are conveyed into finished product warehouse.
Above is just the equipment necessary for a 10ton/h
coal briquette line
. If you need larger or smaller capacities, we can customize the briquette line for you.