2017 The Highly Cost-Effective Charcoal Briquette Extruder
Charcoal briquette extruder introduction
Charcoal briquette extruder brings new energy to people's life. It is a kind of new type energy producing machinery also named as screw briquette machine.
It can process the biomass raw materials like wood, sawdust, stalks, peanut shells, etc into charcoal briquettes.
The charcoal briquette making can not go on without the kiln, which is used to carbonize the briquettes produced by charcoal briquette extruder. Charcoal briquette extruder is mainly used in the charcoal briquette making production line. And the charcoal briquette extruder is to form the raw materials into briquette shapes. The high pressure and high temperature form the raw materials into briquettes without binders or additives. The machine adopts high strength of materials, so it is durable.
Our technical team improves the charcoal briquette extruder continuously, so the yield is higher and higher.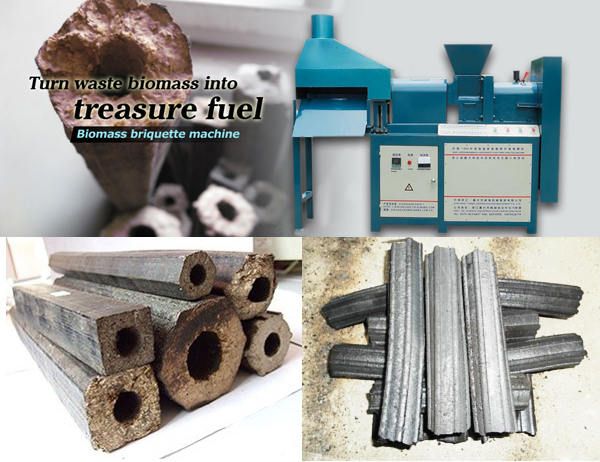 Charcoal briquette extruder processing steps
How is the charcoal briquette made?
There are some general steps that shall be used.
Crushing, drying, briquetting, carbonizing.
If the raw materials are in large shapes, you should crush them into small pieces that are less than 5mm by using a crushing machine, while if the material's size is proper, you should make the moisture content less than 10%. In some areas, the raw materials moisture content is proper, so you won't need the drying machine. After the raw materials are handled, you can use the
charcoal briquette press
to make briquettes. Then the briquettes are sent into kiln for a carbonization. After the above steps, the charcoal briquettes are finished then. You should place the charcoal at a specific place waiting them to cool at the environment temperature.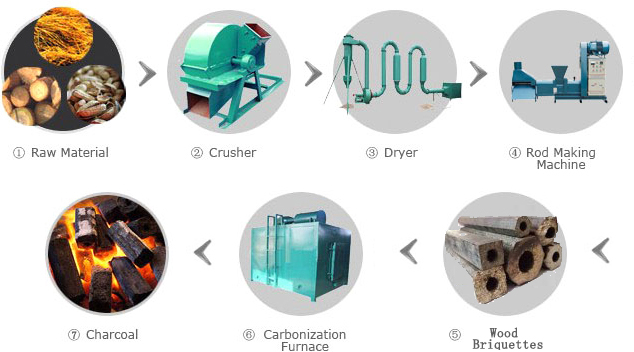 Charcoal briquette extruder in the charcoal briquette making plant
Charcoal briquette extruder is the key part in the whole charcoal briquette production line. So if you want to build your own
charcoal briquette production line
, you should choose a high quality of charcoal briquette extruder. ABC Machinery provides the whole set of plan for the customer. We will arrange the proper quantity of charcoal briquette extruders with certain output. We will choose the right machine for customers according to the raw materials. A good charcoal briquette extruder will help the whole production to produce the good-quality charcoal briquette with smooth surface, high density and low ash content. We provide the customized plant, and the customer will be satisfied with the production line.
ABC Machinery is continuously improving the charcoal briquette extruder and increasing the output of it. We try to give the best service to our customer and your satisfying feedback is our huge power to move forward. Contact with us, we hope a good cooperation with you!