Charcoal making equipment Exported to All of the World
What is charcoal making equipment
Recent years, charcoal making equipment is gradually popular in our daily life, but it is still not known by lots of people, then what is charcoal making equipment?
Charcoal making equipment
is a kind of environmental friendly machine, and it can process coal powder, coke powder and charcoal powder, etc. The charcoal making equipment can press the raw materials into different shapes, such as pillow, oval, round shapes, etc. The charcoal making equipment has two opposite molds, and there are many fluted patterns on the molds. The materials are formed between the two fluted patterns.

How to build a charcoal making equipment
Charcoal making equipment is not so difficult to operate, only if you learn the operating instruction carefully and the machine is installed according to the design, there won't be any problems. Firstly, you should make sure the working place of the charcoal making equipment is flat and there is the necessary electricity that meets the requirements. There should be enough space to place the raw materials and finished products. After every thing has been prepared, you can set up the charcoal making equipment and connect the electricity to the machine. If you want to build the charcoal making equipment, all the machines including other auxiliary machines should be installed as per the specific orders. Our technicians will help you to finish it, so you won't need to worry about that.
How to make charcoal through a charcoal making equipment
The charcoal making principle is like that, the raw materials like coal, coke and charcoal are ground into the small particles smaller than 3mm, and the moisture content should be controlled between 8-15%. Then the raw materials are fed into the charcoal making equipment. The materials fall into the machine chamber, under the high pressure of the machine, the materials are pressed by the two opposite rollers. Due to the sophisticated technology, and the reasonable designing, the machine can produce high quality of charcoal, the surface is smooth, the density is high and the size is proper.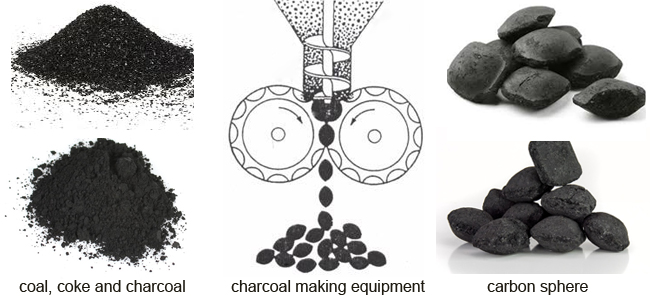 What is charcoal used for
The charcoal is environmental, its function is similar with the traditional fuels, but it is superior to them. They can be used to barbecue, for there won't be any harmful substance that goes into the food. They can be used into the fireplace, the burning efficiency is high and the burning time is long. Usually, most of the charcoals are used in the house for cooking and heating. The charcoal made by the charcoal making equipment can bring people with high standard life, and improve the living condition.

This kind of charcoal making equipment has got the national patent of China. If you want to purchase a charcoal making equipment, you can consider the product of ABC Machinery, our product has quality guarantee and our company has great after sale service. You can contact with us through the following chart, we will reply you as soon as possible!