Coal Briquette Maker
In the utilization of coal briquette maker, the quality of feed coal can directly influence the work efficiency of the equipment.
Then how to improve the quality of coal? Here are three ways:
1. Increase the bulk density of coal. The higher its bulk density is, the lower carbocoal contraction it is in coking process, and the less coke crack there is, which ultimately improves the intensity of coke. Because of the increase of bulk density, the coal interval becomes smaller. As a result, the colloid tends to fill in the intervals in the coking process of coal briquette maker, and the gas is not easy to precipitate. Since both the expansibility and mobility of colloid increase, the contact among coal particles become much tighter, and finally forms solid coke.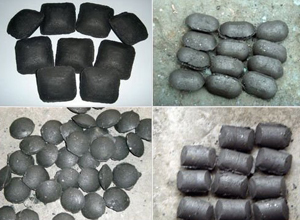 2. Improve coal grinding technology. For different kinds of coal, grind separately according to different granulating standards. This is called selectively coal grinding technology, which can increase the cokeability of coal and decrease coke cracks, and eventually improves coke quality.
3. Add some additives. If moderate amount of adhesives or leaning agent is added in the furnace coal, it can change coal's cokeability, and increase the strength of coal briquette making machine.
Knowing how to improve the coal quality for coal briquetting press machine can not only help us a lot in coke production, but also saves production cost.