Coal Briquetting Process Guide You to Produce Coal Briquettes
Coal briquettes are made of coal powder, which is generally used in our daily life. But during the using process, there will be some big problems. Firstly, if the coal is burnt directly, it will cause great pollution. Secondly, there is a large amount of coal powder, for it is not easy to burn, many people choose to abandon them directly, which is a waste of energy. So
coal briquetting machine
is researched to solve those problems.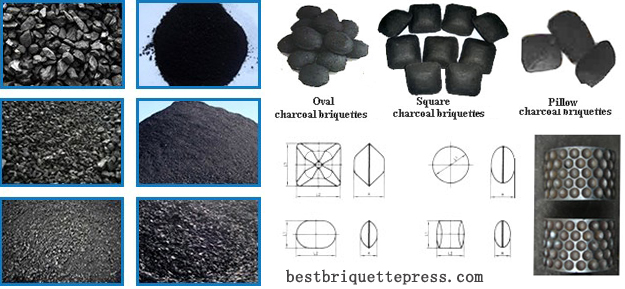 The coal powder can not be processed directly. For there are
some requirements
to the raw materials.
Before going to the coal briquetting machine, the raw materials should have a proper moisture content. That can help the raw materials to form a shape easily.
Raw materials size is also an important factor for the coal briquetting making. Too big size can not make the raw materials into shapes.
The raw materials are not like the biomass raw materials, they don't have lignin, so they are not easy to be bind together, you need to choose the proper binders.
Knowing that, you can begin to produce coal briquettes.
What is the coal briquetting process?
You should collect enough coal raw materials, for once the coal briquetting machine starts working, the speed is very fast, and you don't have enough time to prepare them during the coal briquettes production.
The raw materials should be pretreated before sending them into the machine to make the moisture proper.
Start the machine, and add the raw materials into the hopper of the briquette machine to produce coal briquettes.
After the coal briquettes are produced, you can not pack them or pile them up directly. They should be dried for some time.
The process looks very simple, but
there are some technical problems that should be payed attention in the coal briquetting process
.

The machine quality greatly affects the whole production, if you want to produce high quality coal briquettes, you must choose a good machine.
The proportion of the raw materials and water is very important, and it directly affects the coal briquettes production result.
There are many hazardous substances, after producing the coal briquettes, the hazardous substance collecting and handling is also vital to us.
The density of the coal briquettes decides the hardness, while the hardness is decided by the machine quality, so choosing a good machine is so important.
If you still don't know how to produce coal briquettes, and you want to start your own
coal briquette production business
.
We can help you to design a suitable and practical plant for you.
No matter it is production process or the worker training, we will help you to do the best. Fill in the following chart and contact us now!