Complete Briquetting Line for Coal
Complete briquetting line for coal is a complete production line for making coal briquettes into ball, oval or square shapes to be widely used in metallurgy, mining, coal, refractories, abrasive, fertilizer and ceramics industries.
The components of complete briquetting line:
Vibrating sieve: The raw material coal needs a vibrating sieve to screen it, so that over size ones should be crushed.
Crusher: It is one of the key parts in a coal briquetting plant.
Feeder: It is used to feed the coal powder into the mixer.
Mixer: It is used to fully stir the material and binder to make them combined which can add coal briquettes density and prevent breakage.
Coal briquette press: this is the most important component for the complete briquetting line.
Dryer: The indispensible part for industrial production.
There are some requirements for complete briquetting line
The forming requirement: The raw material must have certain particle size, moisture and binder. This requires the briquetting line to include procedures as crushing, screening, mixing, humidifying, etc.
The combustion performance indicator requirement: The coal briquettes must reach rated calorific value. Generally it is 18-20MJ/kg for civilian use. Because different coal has different quality and calorific value, the complete briquetting line for coal should have coal blending procedure.
The briquetting pressure requirement: The blended coal material which contains binder should reach 20-30MPa briquetting pressure. Too much or too little is not good for briquetting.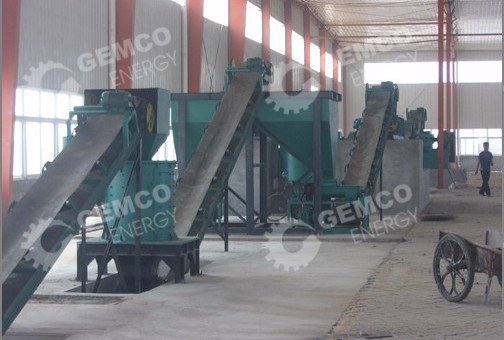 Complete Briquetting Line for Coal
The complete briquetting line nowadays is almost automatic, which means few labor is needed for operating it. This can save you a great amount of production cost, and ultimately brings you more profit.
If you also have other questions about the complete briquetting line, just send us an email!