How Coal Briquette Making Machine Making Briquettes
When using the coal briquette making machine, pay attention to the material feeding amount. Either too much or too little will affect shaping of coal briquettes.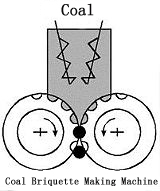 For all users of coal briquette making machine, what they concern most is no other than the machine quality and forming status. While for users of GEMCO coal briquette manufacturing machine, we are quite clear that the quality of final briquettes and the briquette output rate are most important to them. Therefore, to guarantee the briquettes quality, the key factor is to ensure the working pressure of the coal briquette manufacturing machine. This is also the basis of normal function for the machine.
Although the working pressure of coal briquette making machine should be guaranteed, the feeding material supply should also be kept at a certain amount, which is to make sure not to damage the quality of our machines. At the same time, only treated well can the efficiency of our coal briquette maker be maximized and the use value of the machines be improved. When the coal briquette maker machine is at work, we should not only ensure stable supply of coal materials, but also ensure that the material amount between the rollers cannot be too little, otherwise the coal cannot fill the ball sockets to the full, which would result in the unsteady shape of the briquettes. However, to ensure the stable operation of the machine does not mean that the briquette output rate will increase as the feeding supply raises, since when the material reaches a certain level (maximum limit), the briquette output rate will not increase.




Anyhow, the determined raw material feeding amount of the coal briquette making machine is to guarantee all material will reach the rollers and no residuals in other parts no matter how much is the feeding amount. This is the soul of making better use of the raw material and the machine. And only in this way can the value of both the coal material and the briquette manufacturing machine be maximized, and the production cost be saved.