How to Make Coal Briquettes from Coal Dusts
Coal briquettes are produced from coal dusts. They are still widely used by many in heating, cooking, power generation, barbecue and so on. Some people want to invest into coal briquettes production but don't know how. Actually in the production of coal briquettes, the most important part is coal briquette making machine.
Coal briquette making machine, as its name indicates, is mainly utilized to press powdery materials into briquettes. It has features of high forming pressure, adjustable rotating speed and is equipped with screw conveying device.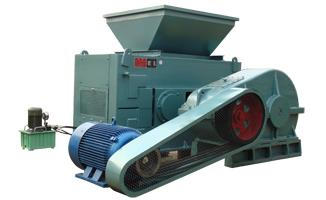 The production process of coal briquettes:
Coal preparation: 1. Coal quality: When using dry powder coal briquette making machine, you can choose bituminous coal which has certain cohesiveness and suitable for hot pressing (the maximum thickness of gelatine layer to be around 10mm) or the mixture of good cohesiveness bituminous coal (the maximum thickness of gelatine layer to be larger than 15mm) and anthracite, weakly caking coal and non-caking coal. 2. Particle size: particle size of coal should be crushed to <3mm.
Heating: the rapid heating is the key to pulverized thermoforming technology of dry powder ball press machine. The coal briquette making machine can dry and heat the coal dusts in a very short period of time to its softening temperature range (420-450℃).
Forming: in briquette press machine, the coal powder that has good adhesiveness and plasticity is pressed into hot blocks.
Hot braise: the coal briquettes just pressed from coal briquette making machine are not hard enough, so they are fed into the hot braise tank to be cooled and hardened in the air absence condition. By hot braising treatment, the anti-crushing degree is greatly improved.
Having learnt about how to make coal briquettes, you might probably be interested in making coal briquettes. So feel free to contact us about any questions.