The function of ball press machine roller and briquette forming requirements
Ball press machine is familiar to the people in coal and mine powder ball briquette making field. Its function is to process the powdery material into briquettes. There are many factors that affect the ball press maker molding process, among which nature of the material (material type, moisture content, molding characteristics, etc.) and indicators of molding equipment are two key points. Here describes how the spacing between two rollers influences briquette shaping.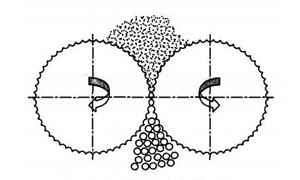 The spacing between two ball press machine rollers is inversely proportional to the compression ratio. Reducing the spacing can increase molding pressure, but if the spacing between the upper and lower rollers is too small, the coal material cannot fill the spherical bowl to the full, and finally affect the briquettes quality. When the spacing is too large, the coal material would fall off before the molding pressure passed to the center of coal briquettes, which would not only influence the intensity of briquettes, but also cause briquettes to be too thick, have raw edges and more coal dust, and even can't form. Therefore, when assembling upper and lower rollers, pay special attention to adjust the spacing between the two rollers to the right size, usually 2-3mm. In addition, when assembling rollers, pay special attention to adjust the spherical bowls of the upper and lower pressure rollers in accordance with their lines and rows, so as to avoid the misplacement of mode affecting the intensity of briquettes.
The rotating speed of ball briquette making machine: Reducing the speed can probably increase the compression time of coal on rollers and help the transfer of counter-acting force to promote coal material particles to be closer, and overcome the shear stress generated by the interfaces of the spherical bowls to probably improve briquettes intensity. But if the speed is too low, it will greatly reduce the yield of briquettes; if too fast, it will not only shorten the compression time of coal material, reduce briquettes intensity, but also cause briquettes demolding.