What is Lime Powder Briquette Machine
Lime powder briquette machine is mainly used to make lime powder into briquettes. Its most significant feature is that it can press the dry powder directly into briquettes.
The lime powder briquette machine can reduce dust, control material volume, recycle the lime powder and improve its transport properties.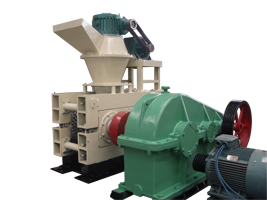 Technical advantage of lime powder briquette machine
The briquette shape made by this briquette machine determines whether the briquettes can combust fully or their air permeability. In the actual use of lime powder briquette machine, the more irregular briquette shape is, the better its air permeability is, and more fully it will be combusted. But because of technology limit, most manufacturers are not able to make lime powder briquette machine that produces briquettes with multiple polygons.
As a leading briquette machine manufacturer, GEMCO has developed the advanced briquette machine roller that produces multiple polygons briquettes. The rollers are made by steel alloy which contains nickel, chromium, manganese, molybdenum, titanium and processed by precision casting to have great intensity, toughness and wear-resistance.

What should you notice when using lime powder briquette machine?
The choice of binder: the quality of binder directly influences the hardness and density of briquettes, and also affects the production cost. So it is important to choose a kind of binder that has easy access, good effect and low price.
Raw material uniformity degree: the particle size and hardness will influence the pressing effect and efficiency of lime powder briquette machine, therefore the uniformity of raw material will directly influence the briquettes quality. So before the raw material enters the lime powder briquette machine, you need to make it to proper particle size.
Moisture and drying technology: sometimes the raw material can be too wet or too dry; if directly put into the briquette machine, it will cause raw material adhesion or broken briquettes. Therefore, the raw material must be kept to certain moisture content.
Want to learn more about lime powder briquette machine?
Click here
!