What is Roller Briquetting Press
Roller briquetting press mainly refers to the briquetting press for coal dust, charcoal, coke dust, and dry powder like aluminum skimming, clay, lime, desulfurized gypsum and metal ores. It can make these powdery raw materials into briquettes to prevent dust, control unit weight, and improve transportation properties. The reason why it is called roller briquetting press is that its main forming parts are 2 rollers (one is driving roller while the other is driven roller) rotate in converse directions but with the same speed to press and extrude the materials between them. The groves in the rollers will form briquettes shape.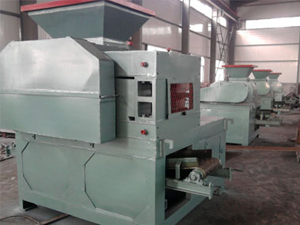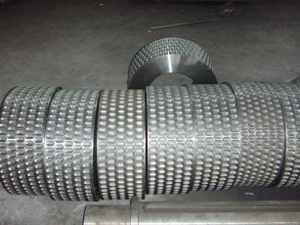 Roller Briquetting Press and the Rollers
The roller briquetting press is flexible. Its hydraulic protection device sprays the high pressure oil into the hydraulic cylinder by hydraulic pump to make the piston occur axial displacement. The front connector of the piston rod withstands bearing block to meet pressure requirement. If there is too much material between the rollers or there are metal scraps, the hydraulic cylinder piston rod of roller briquetting press will be overloaded, and the hydraulic pump will stop. The energy accumulator plays a part of buffering to pressure change, the overflow valve starts oil return, the piston rod shifts to increase the gap between two rollers, and the hard scraps can go through the rollers. Then the system will go normal. This can prevent roller damages. The briquetting pressure can be adjusted according to density requirement.
The rollers of briquetting press adopt high quality materials to be wear-resisting, can stand high pressure and can be used for long time. Besides, the rollers can produce oval, square or circular shape briquettes or customized.
Compared to other briquetting presses, roller briquetting press has higher briquette forming rate and consumes lower energy. Its compact structure also makes it easy to maintain. So if you are intended to invest into briquetting industry, the roller briquetting press is your good choice.