Structure of High Pressure Briquette Press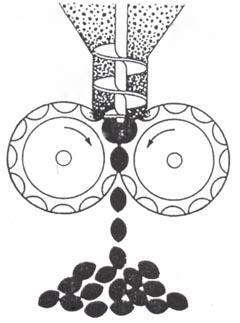 The
high pressure briquette press
consists of feeding part, transmission part, and forming part. Feeding part is mainly to achieve constant feeding to ensure material evenly enter into rollers. Screw feeding device is driven by electromagnetic speed motor and rotated by worm gear and worm reducer to extrude the material into main inlet. The main transmission system of transmission parts is: motor triangle with open gear reducer roller. The forming part mainly refers to the main part of the machine.
The structure and composition of high pressure briquette press:
The key part of a high pressure briquette press machine in a complete briquetting line is its roller. If there is too much feedstock or metal blocks between two rollers, hydraulic cylinder piston rod pressure is overload, the pump will be shut down, and the accumulator dampens the pressure change, the overflow valve opens to drain back oil, the piston rod shift to increase the gap between the rollers so that the hard objects can go through the rollers, the system pressure comes back to normal, so as to protect the pressure roller from damage. This high pressure briquetting press machine can adjust the pressure according to the density requirements of briquettes, and produce flexibly.
The stone crushing process of high pressure briquette press equipment has electromagnetic governor motor constant torque characteristics to maintain a constant feed pressure to keep stable pellet quality when the squeezed feeding amount of screw feeder equals to the amount of material the machine required. If the feeding amount is too large, the feeding device is electrically overloaded; if feed is too small, it can't form briquettes. Therefore, the skillful operation is an important condition to ensure normal briquetting process.
The main engine of high pressure briquette machine is powered by electromagnetic speed motor, and then the power is transmitted to the pulley, the spur gear reducer, and the rod pin coupling to the driving shaft. The driving shaft and the driven shaft are synchronously operated by the open gear. Behind the passive bearing there equipped a hydraulic device. The hydraulic protection device is to press oil from the hydraulic pump into the hydraulic cylinder, and cause axial displacement of the piston. The front connector of the piston rod is against the bearing housing to meet production pressure requirement.
The high pressure briquette press is widely used for the briquetting or pelletizing of carbon, alumina, bauxite, caustic soda, charcoal, clay, coke breeze, coal, cryolite, fertilizers, plastics, limestone, paint, urea, potassium salt and other materials.