Charcoal Briquette Machine
Charcoal briquette machine is a machine used to make charcoal from waste biomass like sawdust, rice husk, straw, bamboo waste, peanut shell, sunflower husk, etc. It has advantages of spending less but making more profit. The charcoal briquette machine can make full use of the useless agro waste to produce valuable charcoal briquettes.
The briquettes made by charcoal briquette machine have wide application in industries, agriculture and daily life:
Metallurgical industry: used for smelting, surface flux, crystalline silicon production.
Chemical industry: additive or molten solvent, raw material for making carbon disulfide, or used in mobile gasifier.
Animal husbandry: put in cattle barns (charcoal can absorb bad smell); added small amount of charcoal in animal feed to accelerate their growth or cure them.
Agriculture: increase ground temperature, improve soil, retain soil water, etc.
Daily life: heating, BBQ, cooking, dehumidizer, deodorizer, etc.
The production cost of charcoal briquettes in China is about 160-250USD per ton, while the price of charcoal briquettes is around 470-640USD per ton. Now many countries are in need of large amount of charcoal every year, some even import from other countries. So if you buy a charcoal briquette machine to make charcoal briquettes for sale, you will make net earnings after just a half year.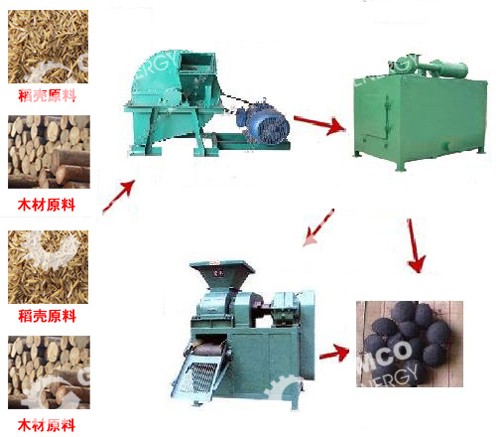 Charcoal Briquettes Production Process:
Raw material---sieving---drying---briquetting---carbonizing---packing
The raw material should be crushed into 10mm particles and dried until its moisture content is lower than 12%.
The briquettes just made out by the charcoal briquette machine can be called biomass briquettes, which can be burned but have relatively lower efficiency compared to charcoal briquettes. The briquetting process does not need any binder.
The carbonization process is realized in a sealed furnace.
If you are intended to start your own business, making charcoal briquettes with charcoal briquette machine is a great choice.