Hydraulic Briquetting Press Makes Waste Biomass into Money
GEMCO hydraulic briquetting press is used to make powdery biomass like sawdust from many kinds of wood or straw and paperboard into cylinder briquettes for burning. The reason why it is called "hydraulic" is that its main part is driven by a hydraulic system.
In furniture factories or woodworking factories, there are large amount of sawdust or wood shavings left every day. Therefore how to make full use of them has been a key concern to the factory owners. The emergency of hydraulic briquette press machine is now the most efficient and economical solution to the biomass waste.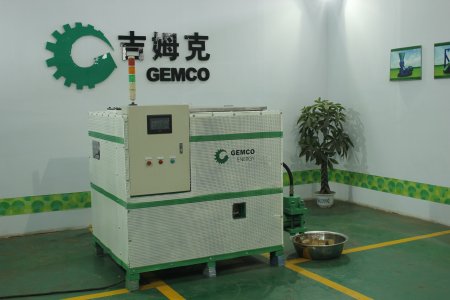 What are the advantages of hydraulic briquetting press?
It adopts PLC control system and a touch screen to see all its synchronous simulated operating process. Even when the machine goes wrong, you can learn which part fails from the screen and can fix it quickly.
Its electric components apply world famous brands Siemens and Schneider to guarantee great quality and performance.
The density of briquettes made by hydraulic briquetting machine is 1.2ton/m3, which equals to 1.2g/cm3. Such high density can assure the easy transportation, storage and durable combustion of the biomass briquettes.
The whole machine is covered by a welding frame, which makes it beautiful and easy to move.
It is also installed with an alarming light. If the machine goes wrong, the alarming light will be lightened, and there will be warning sound. Generally this hydraulic briquetting press has extremely failure rate.
Less man power. One single man is enough to operate it.
The hydraulic briquetting press for biomass is really a useful piece of equipment. It can make briquettes from wood chips, wood logs, off-cuts from furniture factories, as well as sawdust. The briquettes produced by this press have good appearance, smooth surface and tight density. The wood briquettes sell very well in our customers' local market and have brought them great profit.
So, the hydraulic briquette press will be a very good beginning to your wood waste processing career.