Process and Advantages of Charcoal Production Line
Charcoal powder, as a kind of non-renewable energy source, has been familiar to more and more people as the replacement of coal. Nowadays, many people have invested into establishing charcoal briquette production line or charcoal briquetting plant . Here we'd like to tell you the process of charcoal production line and its advantages.

Charcoal production line process:
Raw material selection. The raw material of charcoal production line can be crop waste like corn stalk, straw, peanut shell and bean stalk, or furniture factory waste like wood shavings or sawdust. So it can also be called wood charcoal production line.
Carbonization. Put the raw material in carbonization stove or kiln. The raw material will be carbonized at high temperature and anoxic situation.
Crusher. Pulverize the carbonized charcoal into certain size particles. The size is in accordance with the charcoal powder briquette machine to assure good appearance of final products.
Mixer. Put the pulverized charcoal powder and water, certain additives (used according to different charcoal briquette usages) into the mixer to guarantee good combustion.
Charcoal powder briquette machine. Put the mixed charcoal powder into the charcoal briquette machine to be pressed into stick shape, square shape, oval shape or egg shape.
Dryer. After dried, the charcoal briquettes can be stored or packed.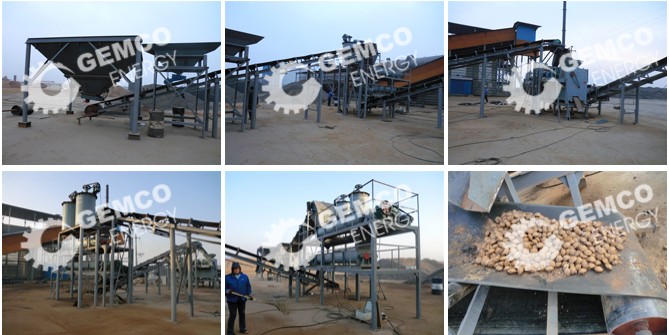 Charcoal production line advantages:
The charcoal briquettes made by charcoal briquette production machine have the advantages of: easy to burn, high heat value, high thermal power, low production cost, money saving, no smoke, no smell, clean and environmental friendly compared to coal.
They are widely used in heating furnace, hot water boiler, steam boiler, drying furnace and biomass gasifier, or for home cooking and BBQ.
The charcoal briquettes can also be used in industries like deep processing of activated carbon, silicon carbide, silicon metal, carbon disulfide factory, explosive factory, copper processing plant, steel plant, foundry, etc.
Seen from above, the charcoal production line has so many applications and advantages that it will have broad market. It can also help you make full use of your biomass waste. Turn waste into treasure!