The Largest Briquette Machine Supplier in China
Briquette Machine Supplier - ABC Machinery
ABC Machinery is one the largest briquette machine suppliers in China
. It has been in
the biomass briquette machine manufacturing industry for more than 10 years
. ABC Machinery is the one of the 5 divisions of AGICO. Now AGICO has over 200 employees and 25 of them are technicians, 8 of them are doctors and masters.
We have got the certificates of ISO9001 and CE.
So our machine quality and the operating safety is guaranteed. ABC Machinery insists in learning, improving, innovating, so our machines are continuously updated. The machine will be more and more convenient and energy-saving. ABC Machinery has sold the machine to more than 50 countries, and the customers give us great feedback. We can customize machines for people who have special demands. Our machine has reasonable price and we will give you the best service.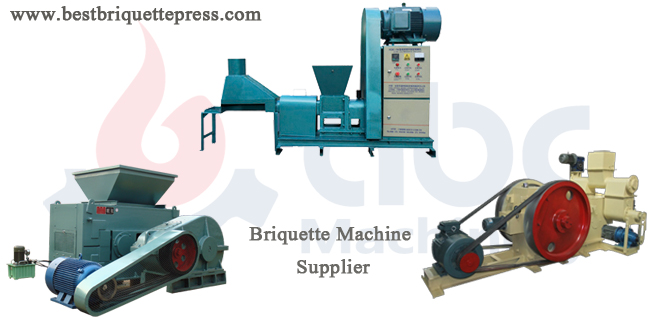 Main products of ABC Machinery
ABC Machinery mainly runs the business of biomass fuel pellet mill, briquette machine, feed pellet mill, oil press machine, flour mill, and other auxiliary machines. Today, we are going to talk about the
briquette machine
. There are many briquette machine suppliers in the world, and we are one briquette machine supplier who has special characteristics. The briquette machines of ABC Machinery have different types, such as
biomass briquette machine
and
coal/charcoal briquette machine
. The biomass briquette machine can be divided into screw briquette machine and punching briquette machine. While the hydraulic briquette machine is used rarely, so we are not going to talk about it.
Biomass briquette machine mainly processes biomass materials.
The coal/charcoal briquette machine can process non-biomass materials, like coal powder, coke powder, etc, and it can also process the charcoal powder.
The end products can be burn as fuels. The briquette fuels are environmental, so it is the great substitute of traditional fuels, like coal, gasoline, petroleum.
Best service given to the customers
The service of ABC Machinery is the best, for we will try to solve the problems for customers and make them satisfied. We have our own after sale service center, all the problems will be sent to the center. There will be specialized person to handle those problems. Once you find there are some problems that are not caused by the humans within the specified time, you can tell us, we will give you a satisfactory reply as soon as possible.
As the briquette machine supplier, ABC Machinery is trying to give customers the high quality products and best service, and if there is one customer sends an E-mail to us, we will reply the customer at 24 hours and won't let him/her wait for long time. There is one thing that can indicates the quality of our briquette machine is good, that is the customer won't need after sale service. If you have any problems in installation, debugging, and operation, our technicians will help you to solve them until your briquette machine works normally.
If you are interested in our briquette machine, you can fill in the following chart, and we will introduce the machine to you in detail.