What is Coal Fines Briquette Machine
Coal fines briquette machine is a kind of equipment used to make powdery raw materials into round or oval briquettes. It can process coal fines, aluminum powder, activated carbon, alumina, bauxite, caustic soda, charcoal, clay, coke breeze, coal, cryolite, fertilizers, plastics, limestone, pigments, urea, potassium salt, etc.
Over years of developing and improving, our coal fines briquetting machines have higher briquetting rate and lower power consumption, compact structure, easy to maintain and other advantages over those made by other manufacturers.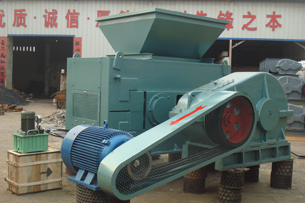 Coal fines briquette machine features:
The most significant application of coal fines briquette machine is to decrease dust, control unit weight, recycle and change the transport properties of coal fines.
Working principle of coal fines briquetting machine:
To meet the requirements of coal fines briquetting process, the screw pressing part adopts an electromagnetic speed control motor, and the speed control mode is manual mode, so that user can appropriately change the rotating speed of pressing part according to the briquetting situation so as to achieve the highest briquetting rate and maximum capacity. After pressed, good coal dines briquettes will be packed, while those don't meet requirement will be returned to the storage bin for reproduction.
The screw conveying device is also driven by an electromagnetic speed motor. With the rotating of the pulley and worm gear, raw material coal fines will be pressed forcibly into main inlet. As the electromagnetic motor has constant torque characteristics, when the amount of pressing material equals to the mount that the machine desires, the briquettes quality are stable. If the feed is too large, then the feeding device will be overload; while if feed is too small will not form briquettes. Therefore, skilled operation is an important condition to ensure the normal working of coal fines briquetting machine.
Note:
We have briquetting lab to do experiments. You can send us your raw material, and we will offer you coal fines briquetting production plant design.