Why Use Wood Briquette Machine
Wood waste refers to the saw dust, shaving and other wood powder residue left during wood processing. These waste wood materials are recyclable both for industries and small workshops. Today we'd like to introduce you a wood briquette machine that can make wood waste into wood briquettes, or even make charcoal briquettes.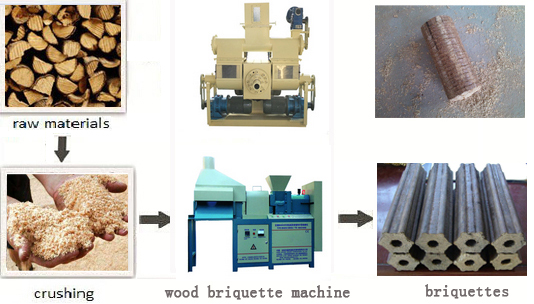 Wood briquette machine
can press the crushed and dried wood powder into dense wood briquettes, and then the wood briquettes can be charred into charcoal briquettes. The wood briquettes and charcoal briquettes made from waste wood have high density and low volume that are easy to deliver and transport. So they are superior kind of fuel. The heat value of wood briquettes can be as high as 3200-4600kcal/kg, the ash content is low, and the price is much lower than coal or other fossil fuels, as a result, wood briquette becomes the replacement to coal and raw wood. Wood briquette is also a good fuel source in thermal power generation. To combust every 10,000 tons of wood briquette can replace 8000ton of coal, but the SO2 emission can decrease 160ton, dust decrease 80ton, and CO2 emission decrease 14400ton, which means it greatly decreases social energy cost.
Wood Briquette Machine Complete Plans
For making wood briquette, you need not only wood briquette machine, but also wood crusher, dryer, conveyor, and also charring furnace if you want to make charcoal briquettes.
Process
Crush the raw material into 3-5mm small pieces or powder, and then dry it till moisture content is 12%. Feed it into wood briquette machine, and briquettes are formed under high temperature and high pressure.
Raw material preparation is quite important for wood briquette making, include sieving and crushing. Equipments may be involved: rotary screen and crusher.
Raw material drying is mainly to dry and deliver the raw material. Equipments need dryer and conveyor.
Wood briquette making process requires one or more sets of wood briquette machine. For collecting the wood briquettes, man labor may be necessary. In this process, no any binder or adhesive is needed, since wood itself will cohere under high temperature and pressure inside the briquette machine.
If you want to make charcoal briquettes from wood, you also need a charring furnace. Workers shall put the wood briquettes inside the furnace, then seal it and ignite the briquettes. After one or two days, charcoal briquettes are produce.
About Wood Briquette Machine Manufacturer
GEMCO is a professional manufacturer of wood briquette machines in China. It is also a leading manufacturer in the world wood briquette machine industry. No matter what questions about briquette machine or wood briquette making, you can feel free to ask us. If you buy from GEMCO, you will get not only a piece of qualified equipment, but also good after sales service from us.
First of all
, after you buy from us, we can guide you on installation. If necessary, we can also send engineers to teach you about the installation and operation.
Secondly
, during you use the briquette machine, if you meet any problem, we can help you solve it at the earliest.
Thirdly
, if your spare parts wear out, you can buy from us even though you have been using it for many years. We are manufacturer, so you can get the spare parts all the time.
If you want to know more about wood briquette machine,
click here
.