BBQ Charcoal Making Machine Brings You Great Profit
BBQ making machine here refers to BBQ charcoal making machine, also called charcoal briquette making machine. It is used to make BBQ charcoal from charcoal powder, carbonized sawdust, peanut shell, corn cob, etc. that were first pulverized into less than 10mm long and 3mm diameter particles. The BBQ charcoal briquettes are often made into stick shapes to be convenient to store and use.
The charcoal made by BBQ charcoal making machine have high density, small volume and good combustibility, so it can replace fuel wood and coal. It is especially suitable for BBQ because of its regular shape, light weight and no smoke.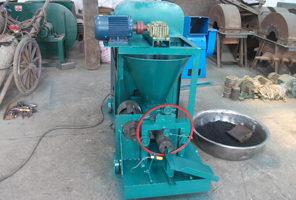 What are the advantages of BBQ charcoal making machine?
Its process is carbonization in furnace before briquetting, which is easier than briquetting to carbonization process.
It can make full use of those waste materials like charcoal powder or sawdust.
The spare parts can work as high as 4000hours.
The power consumption is decreased to 40%, while the productivity is increased 2-3 times.
The production cost of per ton BBQ charcoal is decreased 30-40USD.
The operation is much easier.
The charcoal made out is of premium quality, which can be sold at a higher price.
As estimated by GEMCO, the production cost of 1ton BBQ charcoal is about 150USD, while the selling price is at least 400USD, which means you will earn almost 200% net profit. What's more, most of people like BBQ very much. So the BBQ charcoal will have great market demand. You will find it worth investing into BBQ charcoal making machine.