How to maintain briquetting press equipment
Nowadays, there are many people who use ball briquetting press equipment to make ball briquettes. But how to maintain the ball briquetting press equipment, and make it durable to use?
Here we introduce how to main the briquetting press equipment.
The maintenance of ball briquette machine is actually not too difficult.
First you should know the components of
ball briquette machine
. The ball briquetting press equipment is composed of a speed reducer, motor, two rollers and a skeleton. The maintenance of speed reducer and motor has been mentioned too many times in many books or other websites that you can learn from, therefore here we do not discuss in details. As to the key part of briquetting press equipment, it means the rollers. Rollers are in set, which is composed by roller shell and roller core, among which roller shell is the most important since the roll shell determines whether the raw material can be normally pressed into ball briquettes. If the roller shell goes wrong, then the ball briquette press machine can hardly form regular briquettes.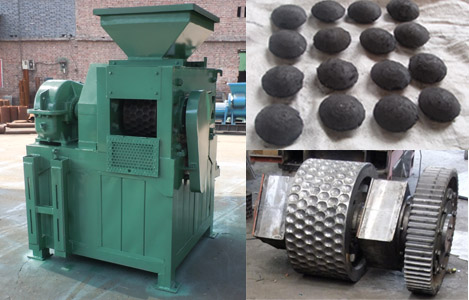 However, how to maintain this important part roller shell?
First of all, roller shell should be cleaned every time finish pressing to guarantee no impurities inside the ball sockets on the roller shell. Otherwise, the materials are hard to be cleared away after long time no use, which would cause irregular ball briquettes, or even unable to leave the mould. Once the ball briquettes cannot leave the mould or discharge irregular briquettes, it is necessary to adjust the roller shell, since long time operation is likely to cause shift to roller shell, as a result the ball sockets cannot align and cannot form briquettes.
Above is one part of briquetting press equipment maintenance. In the following days we will continue to introduce more knowledge about ball briquette machine and hope you will keep reading.