Lignite Coal Briquette Machine
--Turn Low Rank Coal Dust into High Quality Semi Coke
Semi coke is fired from Jurassic coal to be a new kind of carbon material. Because of its high content of fixed carbon, high specific resistance, high chemical activity, low ash content, low aluminum, sulfur and phosphorus content, semi coke has gradually replaced metallurgical coke in the production of calcium carbide, iron alloy, ferrosilicon or silicon carbide, etc. It has become irreplaceable carbon material.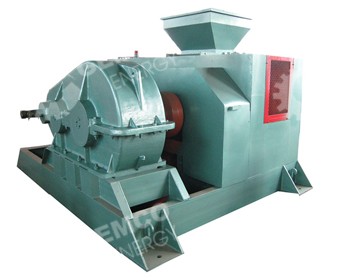 Lignite Coal Briquette Machine
GEMCO has developed lignite coal briquette machine that makes low rank coal dust into semi coke. The hourly productivity can be 500-10000kg. The machine adopts removable roller shell that is processed by special molding technology to have long service life and easy to change.
What are the differences between high quality semi coke and metallurgical coke?
| | |
| --- | --- |
| | |
| high quality semi coke | metallurgical coke |
Different raw materials: semi coke is singly derived from low rank coal dust, while metallurgical coke needs coal.
Different applications: semi coke cannot be used in blast furnace production, but it can totally replace common metallurgical coke in iron alloy, calcium carbide and fertilizer industries. In addition, semi coke has better quality than national standards, can increase the quality of down-stream products, save energy, decrease production cost and increase output.
different technologies: semi coke is processed by smouldering, the temperature is around 600℃. While the productivity of single furnace metallurgical coke is only 50000 tons annually.
Different prices: the price of semi coke is lower. Its production also saves 10% power consumption, which directly saves cost.
Semi coke is widely used in many areas, especially its unique property in carbonaceous reductant has obvious economical advantages.
Because of the abundant low rank coal reserves in many countries and areas, it is quite profitable to make low rank coal into semi coke with
lignite coal briquette machine
.