How is Honeycomb Coal Ball Machine Composed?
Honeycomb coal ball machine
is used to make
honeycomb coal balls
. It is simply composed by machine body, transmitting part, feeding part, stamping part and conveying part. All parts complement each other to operate coordinately and smoothly.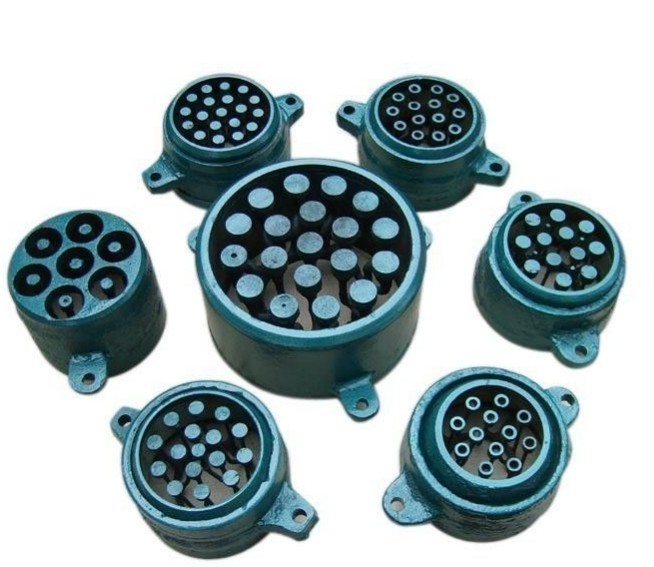 Machine body is composed by platen and frame to form the machine.
Transmitting part is composed by electric motor, belt pulley, gear, transmission shaft and so on. The motor rotates the gear shaft by the motion of belt pulley, and transmits to the transmission shaft by two gears, then the belt gear and axis of rotation drives the driving plate, and finally transmit to four-hole plate.
Feeding part of the honeycomb ball machines is constituted by spindle, hopper and blender. The spindle draws the blender to blend the coal evenly into the former.
Stamping part mainly consists of four sliders, sliding beam, punch, punch blocks, plunger chip, moving pressure plate, moving mold bottom and spring. When the machine operates, the two gears rotate and drive the sliding beam by the pull rod, then force the plunger chip to move down, and the moving pressure plate moves up to form the coal into honeycomb coal ball. The density of coal ball briquette made by the honeycomb ball machinery is determined by whether the spring has compressed the moving pressure plate and the coal.
Conveying part of honeycomb coal ball machinery is composed by transmission rack, belt pulley, holder and the conveyer belt. The conveyer belt rotates with the machine to transmit the formed coal ball out of the machine body. The adjustable screws in the transmission rack can adjust the tightness of conveyer belt.
Other information about honeycomb coal ball machine go
here
.