What is Large Briquette Maker Machine
Coal briquette making that includes sieving, drying, mixing, briquetting, after treatment, packing, etc. has got many public concerns till now, while the most significant one is the large briquette maker machine for coal.
The selection of large briquette maker machine should base on the raw coal features, coal briquettes usage, forming pressure, and so on. Now the most widely used industrial coal briquette maker machine is roller briquette machine. Other types are mechanical stamping type, screw type, and honeycomb type, etc.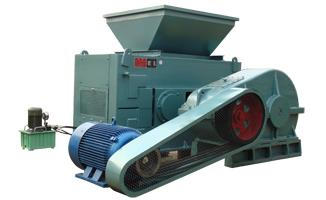 It is mainly composed of 2 uniform rollers and feed-box.
On the surface of roller, there are many ball sockets. Every single socket equals to half a coal briquette. In some feed-box, there is installed a screw feeder, which is used to feed the coal in time and prepress the raw coal.
In the roller type briquette maker machine, the coal is pressed for short time, and the pressure is not great, so there is little elastic deformation caused to the coal briquettes. Now this type large briquette maker machine is primarily used to produce coal briquettes that need adhesive.
Mechanical stamping type large briquette maker machine
The most widely used one type of mechanical stamping briquette makers is hydraulic briquette large briquette maker machine.
How does it work? The feeding device feed certain amount of raw material coal into the briquette maker. Then the punch goes forward, and the coal is gradually compressed tightly into briquettes. At the same time, the coal briquettes are pushed forward, and the forefront one will be pushed out of the mould. Then the punch goes back to initial position.
The mechanical hydraulic large briquette maker machine has advantages of high forming pressure, and it can cause plastic deformation to coal briquettes. Its shortcomings: high power consumption and low hour productivity.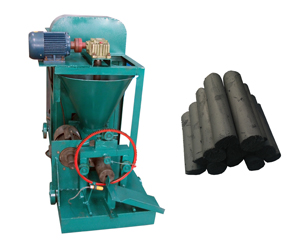 Working principle: the raw material is fed from the inlet; the screw blades push coal forward, mix and press the coal raw material. The coal is extruded through a piece of pipe, and the coal briquettes break to pieces of smooth sticks.
In a word, with the development and research, GEMCO continues to improve the above large briquette maker machines for coal, and their performances are also improved. Till now we have exported our large briquette maker machines to UK, France, America, Germany, etc. If you are willing to own a large briquette maker machine, just send us enquiry now!