Notes about the Dry Powder Briquette Press Machine
1. The host machine molding:
Check if each part of the appliance is normal before turning on. Check whether the die holes of the two rollers are aligned, open the gear cover, loosen the six screws on the passive gear adjustment plate, turn back and forth the passive roller so that the die holes of two rollers are aligned correctly, then twist the screws tightly. The space between working rollers should be maintained at 0.4-0.7mm, if too large or too small, loose the passive roller, bearing alloy and drawing to adjust. After adjustment, tighten the screws and wire drawing. When begin producing, check whether the upper faces of the two rollers match each other; if there is error, remove the large gear cover for screw adjustment.

2. Active hydraulic forming:
In inspection, firstly check if the electric appliance works properly, and if the contour roller and hydraulic steering mercury rotate in the right direction. Then check whether the die holes of the two rollers are aligned, and the space between the rollers should be 0.4-0.7mm, and cannot be too large or too small. If the die holes of two rollers are misaligned, adjust to the best position. Then test the pressure when start the machine, and adjust the bottom pressure to 11MPa and high pressure to 13MPa. Only after all goes well can the machine begin operating.
3. Conveyor:
In normal running, make sure the belt of
dry powder briquette press machine
is not deviation; if the belt is not correct, adjust the front and rear roller bearings and the jackscrew.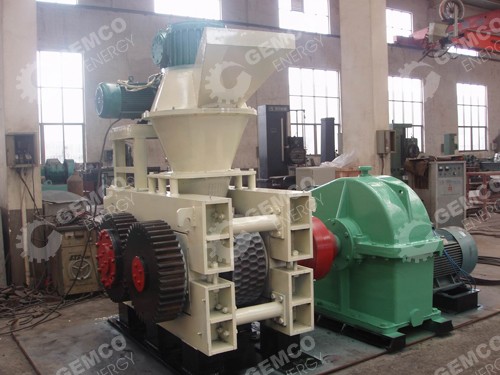 4. Blender:
If the clutch slips in production, loose the fixed wire on the three jaw frame to adjust. To ensure feeding materials of the machine, adjust the angle of mixing blades on the two rollers according to the yield. If extra materials (binders or water) are needed, add in the blender.
5. Feeder:
First, adjust the tightness of belt when start the machine to make sure it not deviated; then adjust the size of the gate according to the production capacity of the
briquetting press machinery
until the feeding material is of right amount.